[micro:form] – new years eve chillout
03.01.2015 | 21:00 Uhr – Mitternacht
Toskana Therme Bad Schandau
Der Resident des Liquid Sound Club in Bad Schandau lädt ein zum entspannten Neujahrs-Chillout.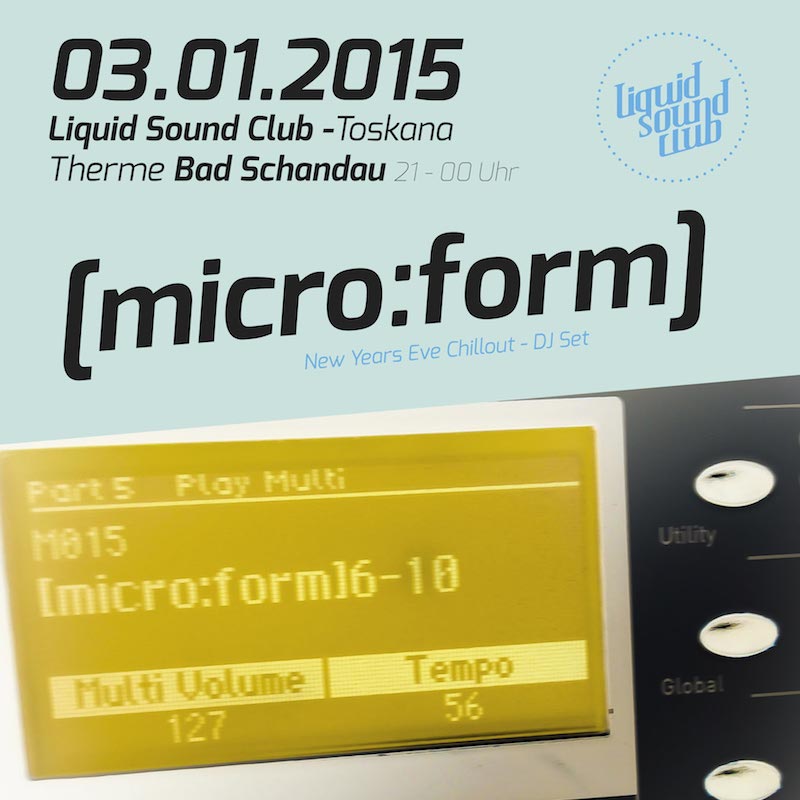 Hörprobe gefällig? Scapes, Designs, Transitions. Played and recorded at the 10th Liquid Sound Club of 2014 by [micro:form] aka stachy.dj

Bitte bestätige, dass Inhalte von www.mixcloud.com geladen werden dürfen, durch einen Klick auf den Button. Mehr dazu erfährst du in unserer Datenschutzerklärung.
Inhalt laden

PHA+PGlmcmFtZSBzcmM9Imh0dHBzOi8vd3d3Lm1peGNsb3VkLmNvbS93aWRnZXQvaWZyYW1lLz9mZWVkPWh0dHAlM0ElMkYlMkZ3d3cubWl4Y2xvdWQuY29tJTJGbGlxdWlkc291bmRjbHViJTJGbXVzaWNhLWVsZWN0cm9uaWNhLWJ5LW1pY3JvZm9ybSUyRiZhbXA7ZW1iZWRfdXVpZD0yODMxZTM5My1mMzMzLTQ0ZjgtYWYwMC05MzJjOGNmYTE3OTQmYW1wO3JlcGxhY2U9MCZhbXA7aGlkZV9jb3Zlcj0xJmFtcDtlbWJlZF90eXBlPXdpZGdldF9zdGFuZGFyZCZhbXA7aGlkZV90cmFja2xpc3Q9MSIgd2lkdGg9IjEwMCUiIGhlaWdodD0iMTgwIiBmcmFtZWJvcmRlcj0iMCI+PC9pZnJhbWU+PC9wPg==
Musica electronica by [micro:form] by Liquid Sound Club on Mixcloud
---
Abendtickets für Kurzbesucher gibt es direkt an der Kasse der jeweiligen Toskana Therme, mehr dazu findet ihr auf der Seite Preise und Konditionen.